Deep Extragalactic Survey
7-year plan
The DXS will image an area of 35 sq. degs at high Galactic latitudes in the J and K filters to a depth K=21.0, with 5 sq. degs also imaged in H. The DXS requires 118 nights of UKIRT time over 7 years. The parameters of the survey are summarised in the table below. The DXS Survey Head is Alastair Edge.
7-year plan
Filter
Area
sq. degs
Mag. limit
(Vega)
t(exp.)
t(total)
Nights
Deep Extragalactic Survey
DXS
J
35
22.5
2.1h
415h
118
H
5
22.0
4.4h
124h
K
35
21.0
1.5h
287h
The principal goals of the DXS are 1: to measure the abundance of galaxy clusters at 1<z<1.5 in order to obtain constraints on cosmological parameters, 2: to measure galaxy clustering at z>1, and more specifically the evolution of bias, a key test of hierarchical models, 3: a multi-wavelength census of the luminosity density in star formation and AGN. The science goals are described in detail on the science case page (dated Nov. 2001).
The coordinates of the four DXS fields are listed in the table below. The locations are plotted in Fig. 1. The default allocation of area between the fields is equal. This may be modified to some extent dependent on scheduling constraints and the release schedule of complementary multi-wavelength data.
Name
Area
sq. degs
RA
Dec
J2000
XMM-LSS
8.75
02 25 00
-04 30 00
Lockman Hole
8.75
10 57 00
+57 40 00
Elais N1
8.75
16 10 00
+54 00 00
VIMOS 4
8.75
22 17 00
+00 20 00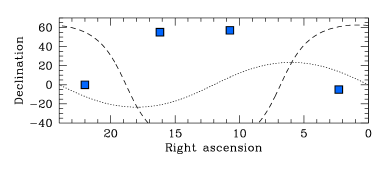 Figure 1. Locations of the four DXS fields. The dashed line marks the Galactic plane, and the dotted line marks the ecliptic.
2-year plan
The UKIDSS plan for the first two years of operation is based around an allocation of 290 nights of observing, which is 31% of the 936 nights required to complete the surveys. In the first two years the DXS will receiving 36 nights, which is 31% of the total 118 nights required. The strategy is to survey to the full depth in J and K only, covering 12.6 sq. degs, distributed approximately equally between the four fields. The parameters of the 2-year plan are summarised in the table below.
2-year plan
Filter
Area
sq. degs
Mag. limit
(Vega)
Fraction
completed
Nights
Fraction
total nights
Deep Extragalactic Survey
DXS
J
12.6
22.5
0.36
36
0.31
H
0.0
...
0.00
K
12.6
21.0
0.36